Best Restaurants Near Turtle Bay Resort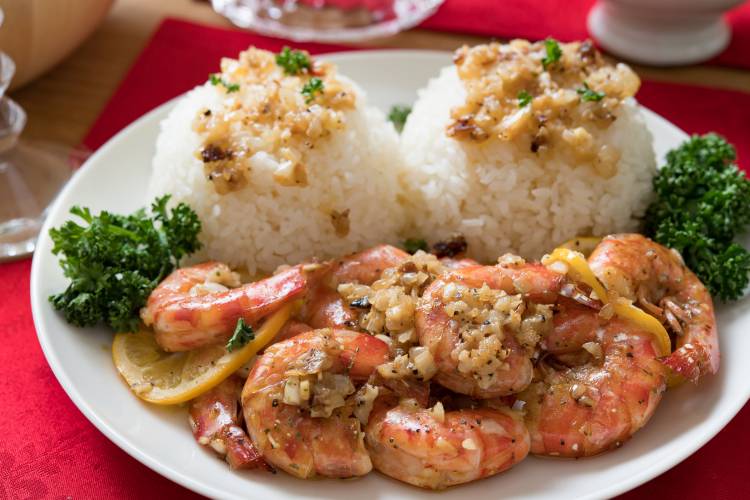 Between traditional Hawaiian dishes and fresh and local ingredients, Oahu is becoming a popular hotspot for foodies! Scattered around the island there are a variety of delicious eateries for your to choose from. However, we find the restaurants near Turtle Bay Resort to be our favorite! We gathered a list of the best restaurants near Turtle Bay Resort to help you plan for your next Hawaiian vacation!
Lei Lei's Bar & Grill 
The best part about this family-friendly restaurant? It is right on Turtle Bay Resort property! Walk from your ocean villa to this excellent and delicious dining establishment. At Lei Lei's you'll have excellent views of the Fazio Golf Course and even while you wait for your food, your kids can go out and play on the course. Breakfast and lunch are takeout style but there are tables right outside where you can have a picnic and enjoy the sun. Dinner is table service with some excellent signature dishes.  
Hours:  Breakfast – 7 am to 10:30 am; Lunch – 10:30 am to 4 pm; Dinner – 4 pm to 9 pm 
Location: 57-049 Kuilima Drive, Kahuku HI, 96731 
Kua'Aina Sandwich Shop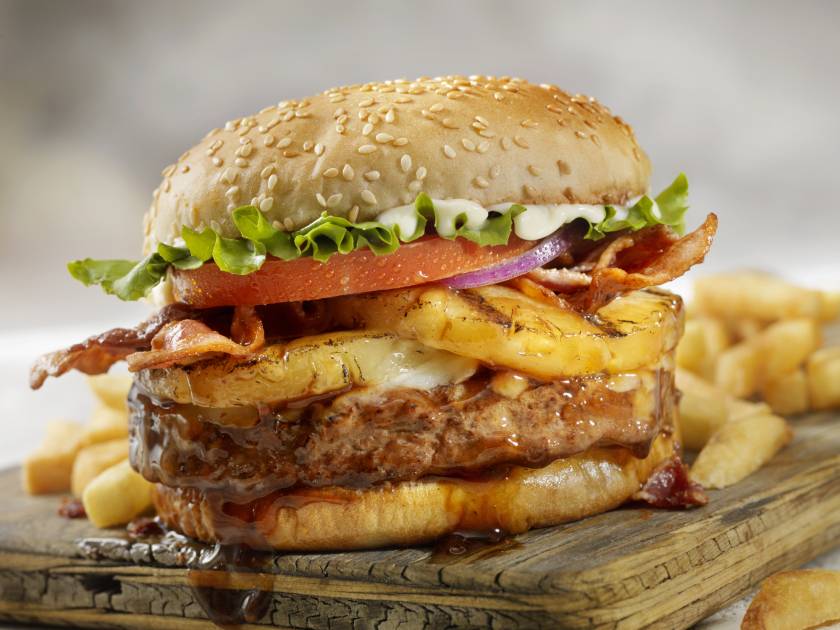 Welcome to the best sandwich shop in Haleiwa! Kua'Aina first opened its door in May 1975 and served 12 meals on opening day. Today, they are an international sandwich shop with locations in Japan, London, and Taiwan. This casual burger joint has some of the best quality and freshest ingredients that are cooked to order. Enjoy classic burgers but also enjoy other proteins including fish chicken, turkey, tuna, and roast beef. Their french fries and sauces are all made in-house.  
Hours: 11 am to 8 pm
Location: 66-160 Kamehameha Hwy, Haleiwa, HI 
Giovannis Shrimp Truck 
Sign your name to the iconic Giovanni's Shrimp Truck! Enjoy delicious shrimp and rice while you visit with loved ones! Their Hot & Spicy Sauce and the scampi marinade have won multiple awards over the years. They have two shrimp trucks on the North Shore of Oahu. One is in Kahuku and the other is in Haleiwa. Be sure to bring cash as they do not accept credit cards.  
Hours: Kahuku – 10:30 am to 6:30 pm; Haleiwa – 10:30 am to 5 pm 
Location: 56-505 Kamehameha Hwy, Kahuku & 66-472 Kamehameha Hwy, Haleiwa 
Haleiwa Beach House 
Enjoy some of the best sunset views over Ali'i beach while you relax and have a delicious meal. The newly renovated Jameson Building has been brought to its old glory days. The beautiful country feels with elevated classic favorites provide an excellent dining experience for lunch and dinner perfect for family and friends. Enjoy a drink by one of the four fire pits before or after dinner or you can just go for drinks. When you visit Haleiwa Beach House you are guaranteed to be treated like family. Reservations are not accepted so get there early or be prepared to wait for a table.  
Hours:  Lunch – 11 am to 3 pm; Dinner – 5 pm to 3 pm  
Location: 62-540 Kamehameha Hwy, Haleiwa HI 96712 
Teds Bakery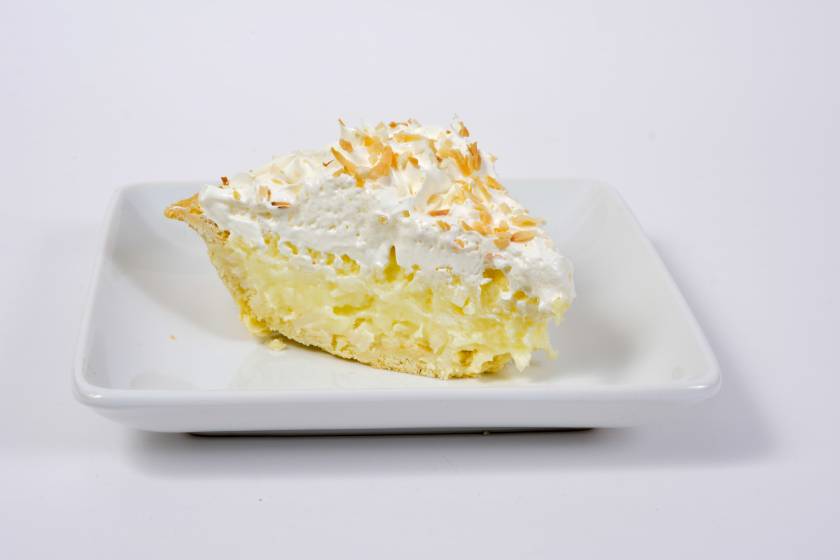 Let's talk about the most important meal of the day. Breakfast! Ted's Bakery is the perfect place for breakfast on the North Shore. They have delicious sandwiches, breakfast plates, and omelets. Let's not forget all of the pastries they have including doughnuts, cinnamon rolls, croissants, and more. They also have delicious lunches and pies and cakes. If you are celebrating a birthday or an anniversary, we highly recommend ordering a cake in advance! 
Hours: 8 am to 6:30 pm 
Location: 59-024 Kamehameha Hwy, Haleiwa, HI 96712 
Haleiwa Joes 
Get a taste of local ingredients and fresh seafood while enjoying the seasonal treasures from the Pacific Rim. Haleiwa Joes is a delicious seafood grill serving fresh fish with some of the most spectacular views of Oahu. While this great establishment is known for its seafood dishes, they also have some land dishes as well. They are open every day for dinner but on Sunday they host brunch from 10 am to 2 pm.  
Hours: 4:30 pm to 9 pm 
Location: 66-011 Kamehameha Hwy. Haleiwa, HI 96712 
Buzz's Original Steak House 
Make a reservation at Buzz's Original Steak House for a meal designed to melt in our mouths! Enjoy top-of-the-line surf and turf meals including Alaskan King Crab Legs, lobster tail, chicken, top sirloin and so much more. Lunch at the steak house is more casual than dinner as tank tops are not allowed after 4:30 pm. If you are just looking for pre-dinner entertainment Buzz's is open for Pupu and crafted cocktails from 3 to 4:30 pm.  
Hours:  Lunch – 11 am to 3 pm; Dinner – 4:30 pm to 9 pm 
Location: 413 Kawailoa Road, Kailua, HI 96734 
Start Planning your Hawaiian Vacation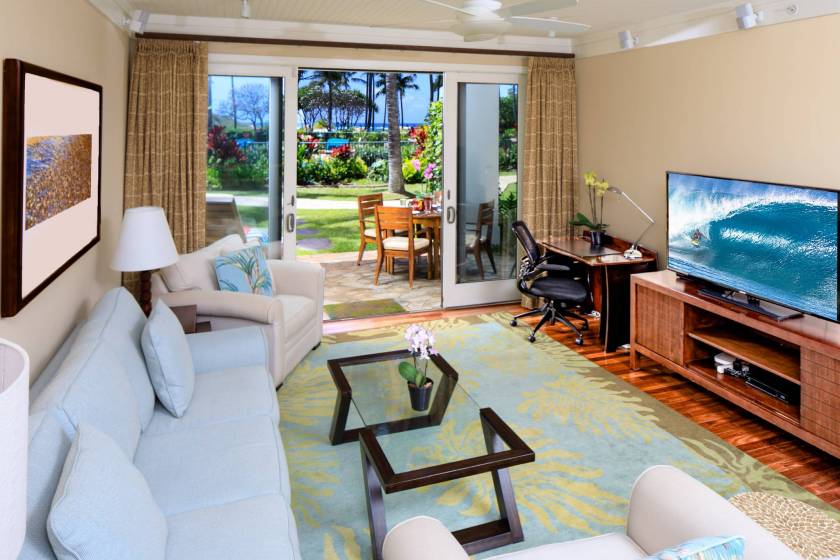 Our Ocean Villas at the Turtle Bay Resort is the perfect destination for your next vacation to the Hawaiian Islands! Enjoy many of the resort amenities including the Ocean Villas pool and jacuzzi and the 12 miles of hiking trails. Stay just steps from the beach on the beautiful North Shore of Oahu! Browse our Ocean Villas at Turtle Bay and start your next steps to a Hawaiian getaway!